Lab-scale innovation
Research at Wetsus focuses on improving the NEWBIES technology by investigating new concepts, developing cleaning and scaling mitigation strategies, and analysis and improving on the ammonia separation mechanisms. Therefore, a team of researchers including Mariana Rodrigues (WUR/Wetsus), Philipp Kuntke (WUR/Wetsus), Tom Sleutels (Wetsus), Annemiek Ter Heijne (WUR), Bert Hamelers (Wetsus/WUR), and Cees Busiman (WUR/Wetsus) are working together with the support of the Wetsus Resource Recovery theme.
In addition to these innovative contributions to the NEWBIES project, Wetsus also takes the lead in analysis and reporting of the pilot phases on urine and landfill leachate, by processing the liquid chemical composition analyses during these phases and reporting the resulting outcomes in the form of scientific publications.
Latest scientific publications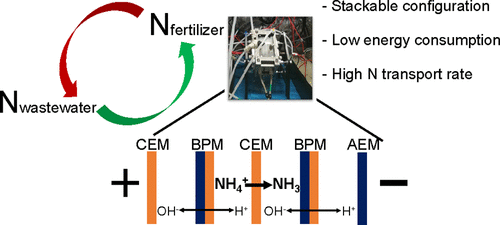 Minimal Bipolar Membrane Cell Configuration for Scaling Up Ammonium Recovery
Electrochemical systems for total ammonium nitrogen (TAN) recovery are a promising alternative compared with conventional nitrogen-removal technologies. To make them competitive, we propose a new minimal stackable configuration using cell pairs with only bipolar membranes and cation-exchange membranes. The tested bipolar electrodialysis (BP-ED) stack included six cell pairs of feed and concentrate compartments. The TAN transport rate, TAN removal, and energy input achieved by the minimal BP-ED stack demonstrated a promising new cell configuration for upscaling.